News
Successful "Showtime" at ACHEMA 2018
At the ACHEMA 2018, held in Frankfurt/Germany from June 11 through 15, MERIDION for the first time presented the nozzle used in spray freeze drying "live" in full function, which turned out to be a real eye catcher. The sterilizable nozzle operates according to the controlled laminar jet break up principle and generates same size droplets which in the SprayCon freezing chamber congeal to frozen spheres. Subsequently, they undergo dynamic freeze drying in the MERIDION rotary freeze dryer LyoMotion.

"It was noticeable that Spray Freeze Drying has gained increasing interest in the pharmaceutical as well as related industries", says CEO Dr. Bernhard Luy. "MERIDION is considered to be the leading technology provider for the industrial use of the technology in all relevant scales, also under aseptic conditions. Therefore, numerous new contacts that were proactively looking for Spray Freeze Drying providers, and with clearly identified development needs could be established, so ACHEMA 2018 once again was a very successful event for MERIDION."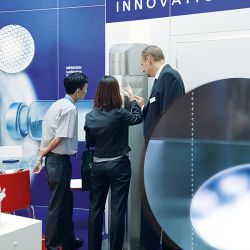 MERIDION succeeds at Interpack 2017
interpack 2017, the biggest and most important exhibition for packaging and associated process industries, having taken place from May 4 through 10 in Düsseldorf/Germany, set a new record with 2,865 exhibitors and 170,500 visitors from 168 countries. MERIDION very successfully presented their innovative power in freeze drying from lab to production scale. "The conversations we've had clearly confirmed that not only 'Big Pharma' but also the BioTech Industry in general is highly interested in a flexible supply chain and manufacturing logistics as well as improved product properties", says CEO Dr. Bernhard Luy. "It is becoming more and more evident that our technologies open up new possibilities for the pharmaceutical industry as well as for other fields of application."
September 2016: MERIDION launches its new website
What you are looking at right now is the new web appearance of MERIDION Technologies. "Besides presenting a state-of-the-art look, one main goal was to instantly introduce our offerings to the qualified visitor – and lead him to his desired information without deviation", says MERIDION's CEO Dr. Bernhard Luy. "What's more, our new site is of course optimized for viewing it on mobile devices, thus making it fit for the future!"
MERIDION enters a new level at ACHEMA 2015
"The State of Innovation in Bulk Freeze Drying" – this was MERIDION's self-confident heading for ACHEMA 2015. At the company's booth, the qualified audience could experience how technologies and lab scale equipment have developed further since their debut in 2012. So no wonder MERIDION's CEO Dr. Bernhard Luy was more than pleased with the exhibition's outcome: "The enormously positive response has proved that we have truly made ourselves a name in the field of our technologies."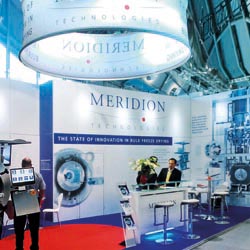 MERIDION convinces visitors at INTERPACK 2014
Alongside ACHEMA, the INTERPACK fair in Düsseldorf is an important showcase for the pharmaceutical industry. MERIDION convinced the vistors not only with a visual display of the first full-scale production line being tested at the company's headquarter in Müllheim/Germany, but als with the first lab-size machines which immediately met buyers' interest.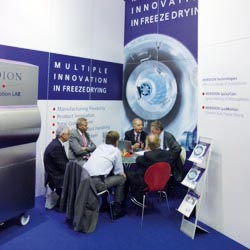 Successful debut at ACHEMA 2012
Backed by the Innovation Award from the highly respected publication PROCESS, MERIDION had a very successful debut at ACHEMA 2012 in Frankfurt. The newly introduced technologies, demonstrated also by a fully working small-scale processing machine, found enthusiastic response with the highly qualified audience.
Innovation Award for MERIDION
At the Powtech 2011 fair in Nuremberg, the special interest publications PROCESS, PharmaTEC and Schüttgut chose the winners of the Innovation Award for the fourth time in a row, which spotlights firms for clever new products.

The response ahead of the Powtech was vibrant, the jury of the specialist media PROCESS, PharmaTEC and Schüttgut had to evaluate around 70 entries for this year's Innovation Award.

Here MERIDION Technologies scored highly with the jury. In order to produce freeze-dried microspheres as bulk goods, the firm has developed two new main processes: SprayCon and LyoMotion. SprayCon uses high-precision jets to break down fluids into individual droplets; these freeze in a cooling trough as round particles of homogenous size (200 to 800 mm). LyoMotion freeze-dries frozen bulk goods, such as microspheres, gently and with continuous mixing. The advantage compared to classical freeze-drying: freeze-drying and filling are separated, reducing costs and positively influencing product quality, process stability and time-to-market.
MERIDION CEO Dr. Bernhard Luy (left) receives the Innovation Award from the hands of PROCESS publisher Gerd Kielburger. Picture: PROCESS