Lyophilized Microspheres and Bulk Freeze Drying: Breakthrough Technology. Breakthrough Advantages!
MERIDION Technologies offer you new opportunities:
Product Innovation
Manufacturing Flexibility
Process Robustness
Total Containment
Significant Cost Reductions
Manufacturing flexibility and cost savings
Filling of lyophilized product on demand
Filling quantities as required
Contained product handling by gravity: no need for loading and unloading systems in sterile area
Vial/final recipient flexibility: no specific freeze drying requirements for primary packaging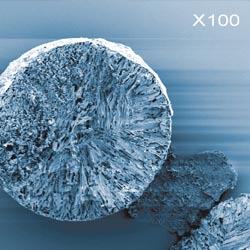 Innovation & formulation flexibility
Multicomponent formulations achieved by combining different lyophilized products in the final recipient (vial), e.g. to overcome incompatibilities
Further modifications of product properties esp. in the area of Solid Dosage Forms like ODTs, Fast Dispersible Formulations, by applying known technologies so far not applicable to lyophilized compounds
MERIDION SprayCon: Spray Freezing of Microspheres
Frozen microspheres are generated by dispersing the substrate liquid using high precision nozzles into monosized single droplets, which by gravity pass through a cooling zone, congealing to frozen spheres.
Narrow particle size distribution
Size selectable from 250 µm – 800 µm
After freeze drying, the product

is homogeneous,
has excellent flow properties
is dust free
Product innovation


Further processing of the lyophilized spheres, e.g. by coating or by combination of products is possible
Highly cost effective utilization of cooling energy – no direct contact with primary cooling agent
MERIDION LyoMotion: Dynamic Bulk Freeze Drying
In the dynamic freeze drying process, flowable bulkware is lyophilized in a rotational freeze dryer under constant gentle mixing. Sublimation energy is transferred by radiation and temperature controlled surfaces.
MERIDION LyoMotion: Advantages and characteristic features
Product quality
Homogeneous, dust free product due to constant and gentle mixing – no caking, no variations in product density
Direct monitoring of product temperature

Up to 50% reduced drying times by
maximized heat and mass transfer (entire particle surface available)
heat transfer directly to the product
maximized flow of vapor – no limitation by stoppers or diffusion barriers of larger product layers

Process robustness
Direct monitoring of product relevant parameters
OOS results reduced
PAT tools directly accessible